Knives for the

 textile industry
Band knives in the most diverse of designs and dimensions, supplied ready for use or on coils (double bevel, 4-sided bevel, flat, convex, concave, serrated).
– HSS straight knives
– Alloy steel & HSS circular knives
– HSS cutter knives
For all conventional machine types such as Eastman, Bullmer, Gerber, Kuris, Investronica, Lectra and other manufacturers.
Special designs based upon sketches and drawings are also available.
Your contact partner

Christian Walder
Textiles/Foam
Tel.: +49 2191 / 81 26 3
c.walder@bs-germany.de
Product information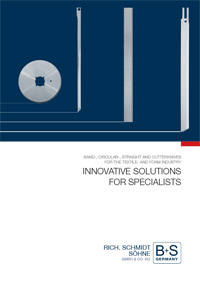 All information available in PDF format
Band knives, circular knives, straight knives and cutter knives for the textile and foam industry
»
Download PDF